CHAD HARTLEY
RENO GAZETTE-JOURNAL
Posted: 6/30/2006
Picture: Oregon State
John Wallace had been on championship teams during his high school career, so the notion that it takes a team effort to win a title was not lost on the Reno High graduate.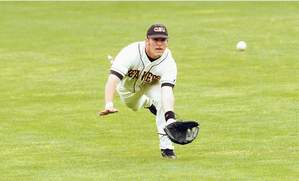 Playing in the championship game of the College World Series for Oregon State on Monday night, Wallace was poised for the most important at-bat of his career.
A moment later, the freshman outfielder and designated hitter found himself on the bench, watching teammate Ryan Gipson's pinch-hit ground ball to second base. North Carolina's Bryan Steed fielded the ball but threw wide to first base, allowing Bill Rowe to score from second. That proved to be the winning run in the Beavers' improbable run to the CWS title.
"I was a little disappointed that I got pinch-hit for because everybody wants to be the hero," the left-handed hitting Wallace said. "But it was the obvious move, bringing a senior right-handed bat up against their big lefty (Andrew Miller). I can't complain because he had some magic left in his bat and we won the national championship."
In the College World Series, Wallace collected eight hits and scored five runs while driving in another run. In the championship game, he scored the Beavers' second run of the game.
"I was very pleased with how I did personally," Wallace said. "I had a lot of fun playing on the biggest stage in college baseball and did my part to help us win a championship. It was the dream of a lifetime."
Wallace described the experience of winning the national championship as "incredible" and "surreal" and said it was a similar feeling to winning state football and baseball titles during his junior year at Reno High.
"Those were incredible experiences in high school and I think they actually prepared me for this kind of thing," Wallace said. "Playing in those big games, those playoff-pressure games, those are huge games. I learned from that. I learned how to play championship ball. There are a lot of guys on this team who won championships in high school. I think that showed through."
Before the CWS, Wallace said he felt confident in his team's chances if only because the Beavers had been there before.
Last year, Oregon State lost two games and went home. This year, the tournament started in a similar fashion as Oregon State fell to Miami in its opening game.
But the Beavers won four straight, including back-to-back wins over Rice to reach the championship series. After losing the opener of the three-game title series to North Carolina, Oregon State won two in a row and became the first team in history to lose two games in the CWS and capture the title.
"Nobody gave up," said Wallace, who batted .326 for the Beavers this season. "Everyone knew we could still do it. This team was hungry for it. This team had been there before and knew we could pull it out."
Wallace said he was struck by ceremonies for the team held in Portland and Corvallis, Ore., upon the Beavers' return and the team members' celebrity status in the campus town now.
"Everywhere you go, whatever store you walk into, people recognize you and congratulate you," he said. "It's been amazing. It hasn't really sunk in yet."
Wallace said he is returning to Reno this weekend but only for a couple days. Then he leaves to play summer ball in Hawaii.