Former alum, Marc "Bubba" Digesti, played first base for the 1999 N. Nevada Zone-Champion Huskies. He is now the strength coach for the US Disabled Ski team. He currently lives in San Deigo. Below lists a story about a recent DVD he helped produce about his U.S. Ski Team.
Published: US Ski Team
Date: May 21, 2007
Story: Disabled Alpine Filming Fundamentals DVD
COLORADO SPRINGS, Colo. (May 21) – The U.S. Disabled Alpine Team took full advantage of excellent late-season conditions in Colorado to mix up on snow fundamental work at Arapaho Basin with physical testing at the U.S. Olympic Training Center in Colorado Springs. But, the best part was they caught it all on tape.
Carl Burnett lays down a fundamental turn at Arapaho Basin (credit: Kurt Smitz/USSA)
With a projected debut of December, the Team is producing a set of DVDs to assist grassroots programs in developing young skiers. The first will be based on alpine fundamentals complete with drills and documents outlining how to properly facilitate and apply the drills. The second will be a highlight film of disabled alpine skiing at the highest level, featuring footage of U.S. Ski Team members and other top world skiers in competition. Both will be available through U.S. Ski and Snowboard Association Coaches Resource Center.
"It's similar to the able-bodied Alpine Ski Fundamentals DVD that already exists," said Head Coach Ray Watkins, "but this will bring together all the important skills for disabled athletes. It's critical that every U.S. program have access to the information that we have. In terms of developing solid skiers for the national team, we feel that our programs need to be an open book."
The film, designed as an educational piece for disabled coaches, will feature both action video and still shots with narration from the U.S. coaching staff including Watkins, Ben Roberts, Kurt Smitz, Marc Digesti and Ian Garner.
"The camp went really well. Everyone was really focused and working to dial their fundamentals," said Roberts. "Collecting video and still images for our education project was a big priority for the staff and we are ahead of the game. Kurt's montage shots and Ian's follow camera video came out really well. I'm really happy with where the team's skiing is heading as we start the '07/'08 season."
"I feel fundamentals have played the largest part in my success," said Chris Devlin-Young (sit-ski; Campton, NH), a four-time Paralympic medalist and 16-year Team veteran. "Having the opportunity to spend time at the beginning of the season to work on fundamentals is the beginning of the path that will take me back to the top of the podium."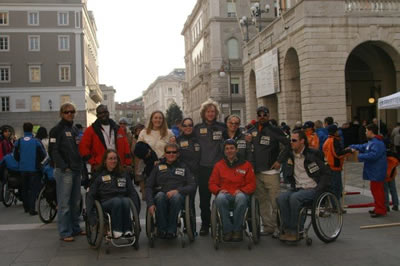 Also on snow for the project were Brad Washburn (sit-ski; Highlands Ranch, CO), Carl Burnett (sit-ski; Cape Elizabeth, ME), Elitsa Storey (standup; Sun Valley, ID), Gerald Hayden (sit-ski; Fresno, CA), George Sansonetis (standup; Fraser, CO), Laurie Stephens (sit-ski; Wenham, MA), Monte Meier (standup; Park City, UT), and Roger Lee (sit-ski; Wildomar, CA). World Cup overall winner Stephani Victor (sit-ski; Park City, UT) and Joe Tompkins (sit-ski; Juneau, AK) are currently rehabbing injuries.
Following six days at Arapaho Basin with perfect spring training conditions, the team packed up for the OTC in Colorado Springs for two days of physical testing. According to Watkins, it was a grueling couple of days, yet full of positives as the Team refuels for another season.
"I think the athletes are always surprised at how difficult these physical testing camps really are, but the data we get allows them to track their progress throughout the season and from one season to the next. It's one of the most important things we do as a team and the staff at the OTC is always incredible," added Watkins.
The Team will be back on-snow in July for a two-week camp at Oregon's Mt. Hood.