Scott Oxarart
RENO GAZETTE-JOURNAL
Posted: 6/09/2010
As a junior, Reno High first baseman Pat Gallagher hit nine home runs and had 40 RBIs. He was clearly producing offensively.
So in the offseason, he worked to get better at everything else — fielding, base running and becoming a better leader.
The funny thing is, not only did he excel at those outside characteristics, he also got better at the plate.
For his efforts, Gallagher is the Reno Gazette-Journal's All-North 4A Player of the Year. That's in addition to the being the High Desert Player of the Year, as voted by the 4A coaches.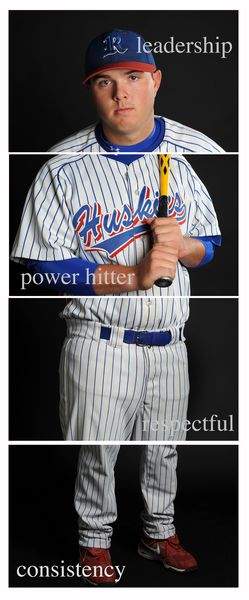 "I really think that Pat Gallagher is the complete player," Reno coach Pete Savage said. "Not only has he worked extremely hard to exhibit the characteristics of a great leader, he always has worked hard on the parts of his game that weren't up to his hitting ability."
Gallagher hit 18 home runs with 56 RBIs this season on a Reno team that reached the 4A state tournament and held the RGJ's No. 1 ranking every week of the season.The Huskies finished the season with a 31-5 record. They won the High Desert League with a 17-1 record, the only loss coming against McQueen late in the season.
The power-hitting lefty, who will play at UCLA next season, provided consistent and timely hitting for the Huskies. Gallagher hit a huge home run to center field in the Northern 4A Regional championship game and blasted a two-run home run against Rancho in the 4A state tournament.
Gallagher and the team's goal this season was to win league, win the regional and win state (Bishop Gorman took the state title).
"Accomplishing two out of the three goals was good," Gallagher said. "Overall, it was a great season."
Savage has seen a lot of good players roll through Reno High as the team's head coach. Gallagher is one of the most humble and respectful players he's seen.
"It's not just about being a great player," Savage said. "The best thing for us was not that he hit 18 home runs with 56 RBIs, but the more important thing is he was one of our team leaders and the strength of our team was our chemistry. That's 100 percent due to our leadership and Pat Gallagher was part of that."
Gallagher will play summer ball for the Reno Knights, a local American Legion team. He reports to UCLA on Sept. 22, which is the first day of school and baseball practice.
"Legion ball is great, we play a ton of games and face a lot of good teams to get prepared for college," Gallagher said. "I have a little time, but I'm pretty excited. I love playing baseball, so year-round is good for me."
RGJ'S ALL-NORTH 4A BASEBALL TEAM
P: Garrett Winkelmaier, Reno; Jace Puckett, Galena; Kameron Van Winkle, Douglas
C: Sean DeWeese, Bishop Manogue
1B: Pat Gallagher, Reno*
2B: Tanner Oates, Spanish Springs
3B: Anthony Hascheff, Reno
SS: Jake Bray, Spanish Springs
OF: Brian Pointer, Galena
OF: Garrett Shutt, Galena
OF: Anthony Rosa, Damonte Ranch
DH: Trevor McElroy, Reno
* — Player of the Year