John Wallace was an important piece to the Oregon State's back-to-back national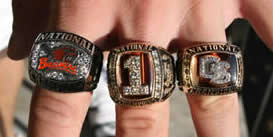 championships in 2006 and 2007. In 2006, he started the majority of the season, despite being only a freshman.
OSU head coach Pat Casey says: "John is really a great role player, and all the things that he does in the game, he does to the best of his ability. John is so versatile he can play anywhere in the outfield and hit anywhere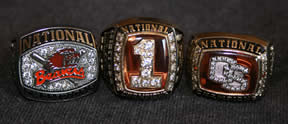 in the lineup."
Oregon State became the first team in a decade to win back-to-back national championships and only the fifth school to win titles in consecutive years in the 61-year history of the tourney.
Pictured are the national championship rings Wallace earned while playing in only his second season at OSU.