Steve Sneddon
RENO GAZETTE-JOURNAL
5/22/2004
It was the Reno High Huskies' formula for success — hitting, pitching and a lot of togetherness.
Errors, walks and Reno batters hit by pitches put the Cimarron-Memorial Spartans in trouble, but the Huskies' clutch hitting finished them. The Huskies won a state baseball title for the first time since 1984 when they stopped the Spartans, 12-2, in the NIAA 4A Baseball State championship game at McNutt Field in Carson City on Saturday.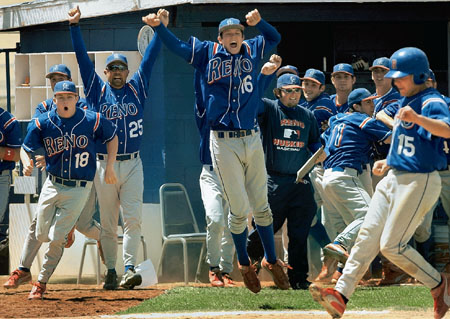 The Huskies got the most out of their six hits and once they staked him to the big lead, 11-0 after three innings, junior starting pitcher Mike Lienert protected it. Lienert went the distance, allowing two runs and five hits, in the game shortened to six innings by the 10-run rule. Drew Johnson walked with the bases loaded to end a game in which the Spartans committed six errors and their three pitchers walked eight batters and hit six Huskies with pitches.
The Huskies finished the season with a 36-5 record and won eight post-season games in a row after losing to McQueen, 4-3, in the Northern 4A Regional first-round game May 12.
"These kids cared about each other. It's the closest team I have ever had," said Pete Savage, who ended his 10th season as the Huskies' head coach. "I think the key is they sacrificed for each other. There have been a lot of players in the last 10 years who have busted their tails for me. This title is for them, too."
The Huskies went 3-0 in the state tournament after losing to Green Valley in last year's title game in Henderson.
"Last year, we were so close," said shortstop Steve Mays, who drove in four runs in Saturday's game. "We really came together after McQueen. It opened our eyes. We knew the whole team, all 22 guys, would have to step up. We did."
The Spartans committed four errors in the first two innings as the Huskies put up a couple of 3-spots for the 6-0 lead. The first error came with the bases loaded with out when Ryan Simpson's groundball was fielded by first baseman Dustin Baxter, whose throw skipped in front of the plate to bring home John Wallace. The Huskies went ahead, 3-0, on a two-run single by Davis Banks that deflected off the third baseman's glove and got past the shortstop.
Things got worse in the second for the Spartans as they paid dearly for their three errors. Jake Johnson tripled to score Procter Hug, who had reached base on a two-base error, and Johnson came home on a throwing error on the play. Reno made it 6-0 when Mays singled to right to score Wallace.
"We dug ourselves a huge hole," said Spartans coach Mike Hubel. "We gave up six hits, six errors. You can't win a state championship that way. We did it two days in a row."
Cimarron-Memorial committed four errors in a 12-7 winners' bracket loss to Reno on Friday.
Any Spartan hopes of a miracle comeback were dashed in the third inning when the Huskies scored five runs for the 11-0 lead. The big blows were Mays' three-run double to left center and Simpson's towering two-run homer over the left-field fence.
"I knew this was our year after we won zone," said Simpson, a senior who drove in nine runs and hit two homers in the three tournament games. "We knew what we had to accomplish and we accomplished it. It was everyone. There's no individuals on this team.
"Everyone was playing for each other. That's why we won state. We wanted to prove to everybody we're the team to beat. It's going to keep going."
The Huskies looked like they might finish the Spartans by the 10-run rule earlier than they did. After the Spartans had scored twice in the top of the fourth to make it 11-2, Hubel went to his ace, junior Mark Willinsky, who had thrown a four-hit 1-0 shutout against Reed on Thursday. Hubel only gave up one hit against the Huskies and allowed the run after two hit batters and the game-ending walk.
"We thought about it (starting Willinsky)," Hubel said. "But you know what, after that many pitches on one day's rest , I'm not going to kill his career.
"They (the Huskies) got it done. We didn't, bottom line."
For almost everyone else in the Huskies' dugout, it was their first state title. But assistant coach Bill Penaluna, who was the head coach when Reno won it in 1984 and returned to coaching this year after nine years away from it, has been there.
"This is special," Penaluna said. "It was a situation we had to come together. We were winning games (in the regular season), but we could've been together a little better.
"It all came together when McQueen put it to us. I think they realized, 'If we're going to do it, we have to do it as a team, not as individuals.' I think guys worked harder than we did in '84. These guys put a lot of effort into it."