STEVE SNEDDON
RENO GAZETTE-JOURNAL
(Click link above for full article)
Posted: 5/10/2006
Picture: SCOTT SADY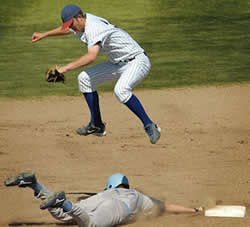 At Reno High Tuesday, the Huskies took a 10-0 win over Reed to move into a winners' bracket game on their home field against Galena at 6 p.m. today. The Grizzlies advanced with a 9-4 come-from-behind victory over Douglas. Reed and Douglas will play in a losers' bracket game at Reno at 3 p.m. today.
…
RENO 10, REED 0 at Reno: Huskies' pitching star Garrett Luippold silenced the Raiders and Pete Savage pitched the fifth inning as they combined for a two hitter in the game that ended on the 10-run rule.
Luippold, who threw less than 50 pitches in his four innings, threw first pitch strikes to all 14 batters he faced. A two-run homer by Jon Dankworth over the left field scoreboard got the Huskies rolling with a 3-0 lead in the second round.
"We swung the bats well," said Huskies' coach Pete Savage, the reliever's father. "We played good defense. The kids had a good approach. Getting the runs early was nice.
"I think anytime you get Luippold an early lead in the game, he's tough to come back on."
The Huskies, the Sierra League regular season champion, ran their overall record to 28-6 and the Raiders, who finished fourth in the High Desert dropped to 15-19.